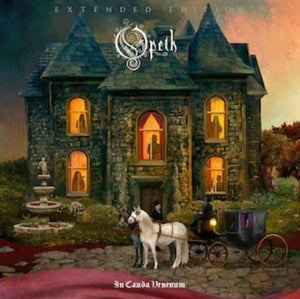 REVO RECORDS
OPETH - IN CAUDA VENENUM (CONNOISSEUR EDITION, 2XLP, REMASTERED, ENGLISH VERSION)
Regular price
£30.00
£0.00
Unit price
per
Tax included.
Shipping
calculated at checkout.
NEW VINYL - PRE ORDER
RELEASED 20/10/23
English version of the remixed and remastered "Connoisseur Edition" of In Cauda Venenum. "How do you transfer a state of the art Pro-Tools recording, with a zillion different tracks, on to a piece of plastic and generate sonic greatness?" With lockdown, Opeth's mastermind Mikael Akerfeldt finally found the time to unite 'a team of musical nerds', as he describes it, to ponder over the question, how they could produce a master of In Cauda Venenum that sounds as surpreme as Akerfeldt's favourite records from the past? After heated discussions and trying out many different methods that never seemed to fully please the Swedish master's ear, they transferred the album to magnetic tape and then cut the vinyl lacquers from the tape itself, to create a warm, powerful and yet dynamic master that is now available in form of their In Cauda Venenum's "Connoisseur Edition".
---