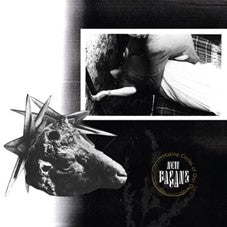 REVO RECORDS
NEW PAGANS - MAKING CIRCLES OF OUR OWN
Regular price
£23.00
£0.00
Unit price
per
Tax included.
Shipping
calculated at checkout.
NEW VINYL - PRE ORDER
RELEASED 17/2/23
Making Circles of Our Own is the new upcoming sophomore record from Northern Ireland's New Pagans. From the very beginning the Belfast's indie rock outfit intent was clear: to fuse their collective creative experiences and emit a confidence in both their sound and aesthetic. New Pagans in essence is a movement, challenging issues surrounding relationships, equality and history all wrapped in massive riffs and soaring dynamics shaped into their own brand of alternative, post punk and indie rock — all encompassing on the bands incoming second album 'Making Circles of Our Own'. With the dawning of 2023 on the horizon, New Pagans have been building off the success of 2020's debut album 'The Seed, The Vessel, The Roots and All' - which helped secure them as winners of 'Best Live Act' at the NI Music Prize in 2020 - and emerge invigorated anew. Latest single 'Better People' is a stunning blast of positivity that celebrates their ability to pull together, create communities and look after one another. Often outspoken and not shy of protesting the dark themes that infiltrate modern Irish life, singer & lyricist Lyndsey Mcdougall implores us to endeavour to be just as the title suggests. And with this new era comes their staggering second album 'Making Circles Of Our Own', which sees the five-piece abandon the chaos of 2020 for a moment in search of hope in the future. Recorded and self-produced at Badlands Studios in the Glens of Antrim in Ireland (the band's HQ) by band members Cahir O'Doherty and Allan McGreevy, New Pagans continue to expand their DIY position. This time around they also invited Sam Petts Davis (Radiohead, Warpaint, Frank Ocean) to mix the songs and the result is an energetic and infectious collection of anthems.
---