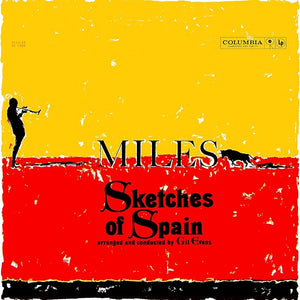 REVO RECORDS
MILES DAVIS - SKETCHES OF SPAIN
Regular price
£20.99
£0.00
Unit price
per
Tax included.
Shipping
calculated at checkout.
NEW VINYL
COLUMBIA RECORDS - STEREO
The crown jewel of the epic Evans / Davis triptych that began with 'Miles Ahead' and 'Porgy and Bess', 'Sketches of Spain' is as emotionally compelling as any performance in the trumpeter's remarkable body of works. Combining as it does the emotional gravity of two cultures - the deep song of flamenco music and the rich lament of the blues - 'Sketches of Spain' is a musical hybrid of enormous power and beauty. Gil Evans' immense canvas of orchestral colours inspires some of Davis' most deeply felt solo flights. He paints vast vistas of velvety, shimmering night sounds, and through it all runs the mountainous backbone of Spain's native rhythms and chants. The centrepiece of 'Sketches of Spain' is the Evans / Davis treatment of the second movement of Rodrigo's 'Concierto de Aranjuez'. Evans' charts engage davis in a shifting, insistent dialogue, italicising the trumpeter's subtle variations and timbral ecstasies with magnificent orchestral flourishes. The surreal patina of three flutes and harp, high muted trumpets and woodwinds, and subterranean trombones, french horns and tuba that define one of the main variations on the theme, is a majestic foil for Davis' expressive tones. Gil Evans liked to say that after louis armstrong, no one had affected the sound of the trumpet like Miles Davis. Miles fashioned a vibrato-less, introspective brass cry, made all the more lovely by his lush use of the middle and lower registers. Davis' manipulation of pitch on 'Saeta' and 'Solea' is so idiomatic, so vocalised, so full of revel and lament, it pierces your heart with heroic resignation and longing. 'Sketches of Spain' stands alone as one of the pillars of modern music.
---