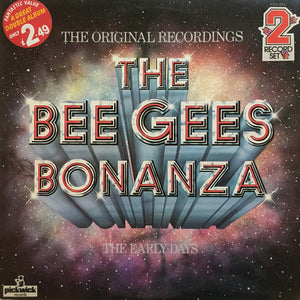 REVO RECORDS
BEE GEES - BONANZA - 2xLP
Regular price
£7.00
£0.00
Unit price
per
Tax included.
Shipping
calculated at checkout.
VINTAGE VINYL
VG CONDITION
Label: Pickwick Records – PDA 048
Series: The Early Days (Bee Gees)
Format:
2 x Vinyl, LP, Compilation, Phonodisc Pressing
Country: UK
Released: Aug 1978
Genre: Rock, Pop
Style: Pop Rock
Tracklist
Hide Credits
A1 Where Are You
A2 Spicks And Specks
A3 Playdown
A4 Big Chance
A5 Glass House
A6 How Many Birds
B1 Secondhand People
B2 I Don't Know Why I Bother With Myself
B3 Monday's Rain
B4 Tint Of Blue
B5 Jingle Jangle
B6 Born A Man
C1 I Was A Lover, A Leader Of Men
C2 Follow The Wind
C3 Claustrophobia
C4 Theme From 'Jaimie McPheeters'
Written-By – Winn*, Harline*
C5 Everyday I Have To Cry
Written-By – Alexander*
C6 Take Hold Of That Star
D1 Could It Be
D2 To Be Or Not To Be
D3 Three Kisses Of Love
D4 Cherry Red
D5 All Of My Life
D6 Don't Say Goodbye
Companies, etc.
---